NOT-S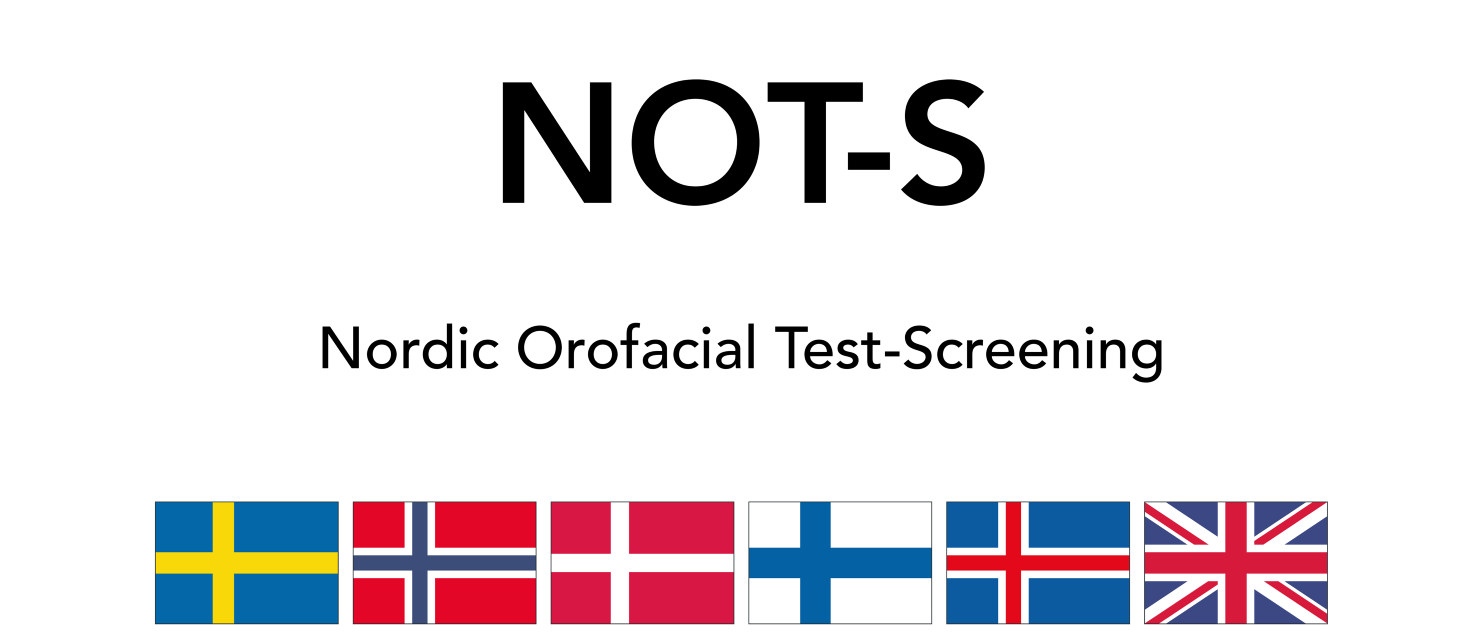 NOT-S, Nordiskt Orofacialt Test - Screening, är ett screeninginstrument för orofacial funktion.
NOT-S kan användas för att identifiera orofacial dysfunktion hos barn från tre års ålder, ungdomar och vuxna. Screeninginstrumentet kan också visa hur omfattningen av orofaciala funktionsstörningar varierar mellan individer och mellan grupper. NOT-S är lättadministrerat och screeningen kan utföras av personer med olika yrkesbakgrund efter introduktion och kalibrering. NOT-S består av en bildmanual och ett screeningformulär som finns översatt till samtliga nordiska samt några andra språk.
NOT-S har utvecklats som ett samnordiskt projket inom Nordisk förening för funktionshinder och oral hälsa (NFH). Arbetet har utförts av en arbetsgrupp bestående av tandläkarna Merete Bakke, Köpenhamn och Birgitta Bergendal, Jönköping, samt logopederna Anita McAllister, Linköping, Lotta Sjögreen, Göteborg och Pamela Åsten, Oslo. Arbetsgruppen har också genomfört en studie för utvärdering av NOT-S validitet och reliabilitet (Bakke et al, 2007). Överskottet från försäljningen av NOT-S bildmanual går till NFH för utveckling av ett gemensamt nordiskt test för en fördjupad klinisk bedömning av orofacial funktion. NOT-S är normerat för barn 3-8 år (McAllister & Lundeborg, 2013).
Referenser
Bakke M, Bergendal B, McAllister A, Sjögreen L, Åsten P. Development and evaluation of a comprehensive screening for orofacial dysfunction. Swed Dent J 2007;31:75-84.
McAllister A, Lundeborg I. Oral sensorimotor functions in typically developing children 3 to 8 years old; assessed by the Nordic orofacial test, NOT-S. J Med Speech Lang Pathol 2013;22:51-55.
Screening
NOT-S görs genom en strukturerad intervju och en klinisk undersökning som består av sex domäner vardera. Intervjudelen innehåller domänerna (I) sensorik, (II) andning, (III) vanor, (IV) tuggning och sväljning, (V) dregling och (VI) muntorrhet. I undersökningen ingår domänerna (1) ansiktet i vila, (2) näsandning, (3) mimik, (4) tuggmuskel- och käkfunktion, (5) oral motorik och (6) tal. Ett eller flera ja-svar inom en domän indikerar orofacial dysfunktion och ger en poäng (maximal poängsumma = 12).
Senast uppdaterad: 2021-04-22 14:54
Har du en synpunkt eller fråga om webbsidan?
---